Is Microchipping Such a Good Idea?
Have You Ever Lost Your Pet?
Losing your pet is tragic and is an emotional event that affects the entire family. Though many owners protecting their pets with ID tags and collars, these are not entirely foolproof. Tags can become difficult to read over time, and some pets may break or lose their collars when they escape. Experienced veterinarians at Pleasantville Animal Hospital of Fallston strongly advocate for microchipping rather than the use of breakable collars and ID tags.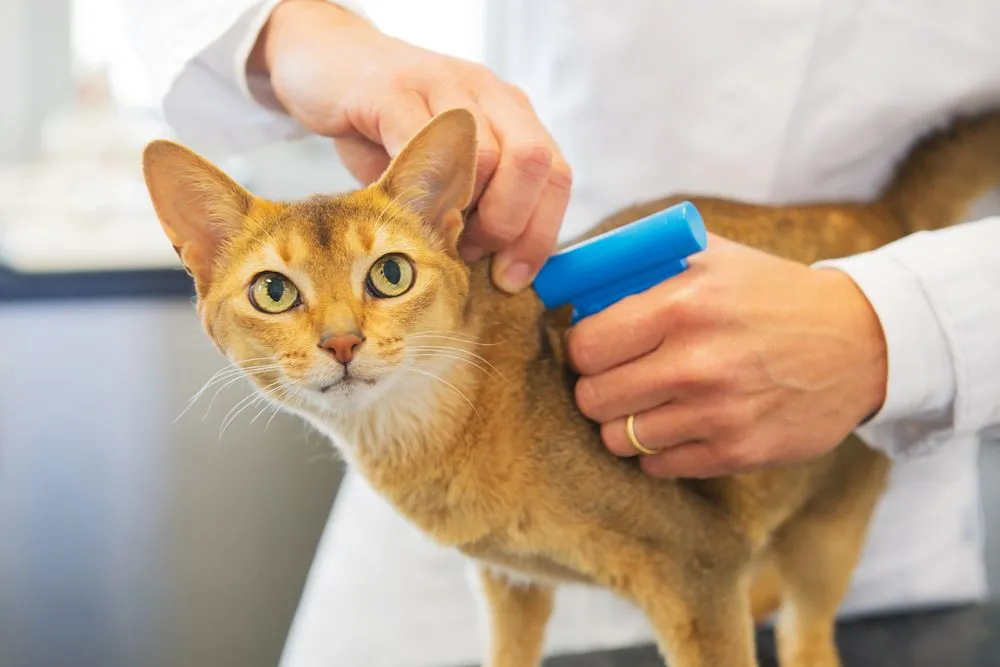 Microchips are simple computer chips that are each encoded with a one-of-a-kind identification number. These devices are about the size of a grain of rice and are placed via an injection under the skin. If an animal goes missing and is brought into a veterinary office or shelter, the animal is scanned upon arrival to check for a microchip. The microchip ID number is picked up by the scanner, and this ID number is then used to obtain the owner's contact information so that their pet can be returned to them. Microchips do not contain an energy source, so you do not have to worry about your pet's microchip suddenly going "bad."
Why Should You Consider Microchipping?
Millions of pets end up in animal shelters annually after losing their tags and collars. Unfortunately, very few of these animals are reunited with their rightful owners. These animals may be adopted out to new homes or, even more tragic, euthanized. Additionally, it can be difficult to prove ownership of unchipped pets. Microchipping also protects your furry friend against theft. This is why it is essential that your pet has functioning identification at all times. If your pet is chipped and it goes missing, when its chip is scanned by hospital or shelter staff, they will be able to obtain your basic contact information by contacting the microchip company with your pet's microchip ID so they can work on reuniting you with your pet.
Microchipping is comparable to giving a shot but with a much larger needle. Many pets tolerate this procedure being done fully awake and without pain medications. However, you can opt for your pet to be microchipped during anesthesia. This is why we usually advocate for owners to have their pet microchipped during their spay or neuter procedure.
Where Can You Get Your Pet Microchipped?
If you are looking for a full-service animal hospital with more than average microchipping expertise, look no further than Pleasantville Animal Hospital of Fallston! If your pet is not microchipped, please consider the above-mentioned benefits, and feel free to ask about it prior to or during your appointment. We can implant a microchip at any time and can easily add it into an appointment.
Among our experienced staff is the father-daughter veterinarian team, Dr. Scott Gounaris and Dr. Rebecca Gounaris. They are both well-educated and highly-qualified to take care of the medical needs of your furry family member. Give us a like on Facebook, a follow on Instagram and a call at (410) 877-3838. We always look forward to being of service to you and your pet!