Andrew Gounaris, Office manager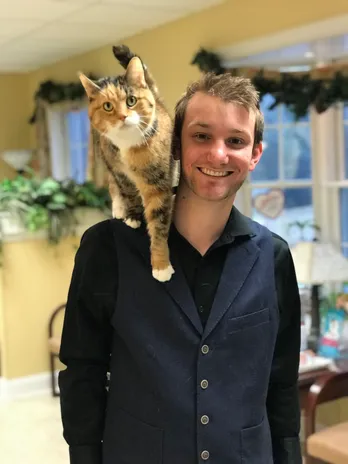 Andrew Gounaris is a 2018 University of Maryland graduate with a degree in Behavioral and Social Sciences. He is the youngest of the three siblings and is the hospital's practice manager. Throughout his life, Andrew has always had a passion for helping others, and has expanded that love through Pleasantville Animal Hospital serving clients and staff as the practice manager. Andrew has worked his way up in the practice from a kennel helper, to a veterinary assistant, veterinary receptionist, and is now the manager. Andrew is the owner of a toy poodle, Shelby, a Cavalier King Charles Spaniels, Charlie (or Charles when he is insubordinate) and two cats, Kayda and Nova.
---
VETERINARY ASSISTANTS
Connie Wamsley, Amanda Wyatt, Janet Wright, Ashley Miller,
Grace Moulsdale, Kyrstan Young, Liam Willingham, Summer Peters
---
Veterinary Receptionists
Erin Long
Erin works part-time at the front desk at Pleasantville Animal Hospital and full-time as marketing coordinator at the Humane Society of Harford County. She and her husband of 12 years, John, are huge animal lovers and have several dogs and cats they've adopted from the shelter over the years. Erin thoroughly enjoys working with and meeting many amazing people who share her love for animals. Erin holds a BA in Communications from Elizabethtown College with dual minors in Business Administration and Visual Arts. In her spare time, she enjoys being crafty, going to flea markets and reading a great book.
Amanda Strama, Lisa Bowers, Connie Wamsley, Chelsea Cline, Summer Peters