WElcome to Pleasantville Animal Hospital
a family-owned Veterinary practice in Fallston MD
Call us at (410) 877-3838
At Pleasantville Animal Hospital of Fallston, our family-owned veterinary practice takes great pride in being the area's go-to veterinary hospital for all their pets' health and wellness needs. For 15 years, we have been the chosen vet team for many pet owners in the Harford County region, including the Fallston, Bel Air, Forest Hill, Abingdon, Baldwin, and Jarrettsville communities. We know that you love your pet like family, which is why all the members of our veterinary team and office staff go out of our way to treat your pet like one of our own. Ultimately, our goal is to provide you and your pet with the highest standard of service and care each time you come into our office.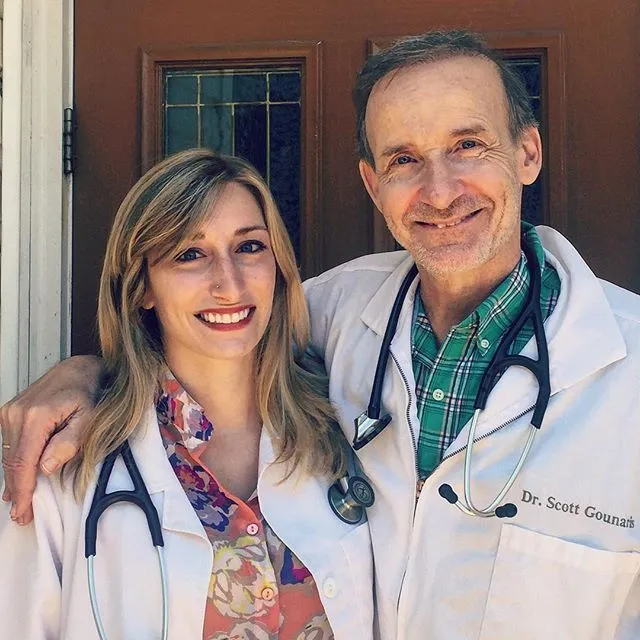 Meet Our Veterinarians and Staff
One of the most unique aspects of our veterinary hospital is our family veterinarian team, Dr. Scott Gounaris, Dr. Rebecca Gounaris, Dr. Michael Gounaris, and Dr. Megan Gounaris, who work as a team on each case that walks into our clinic. In addition to our veterinarians, our office manager, Andrew Gounaris, is another family member that enjoys working with clients and keeping our clinic running smoothly. We also have a number of veterinary assistants and reception staff that all contribute different unique qualities to our business - we couldn't do it without them!
More About Our Services Offered
We take a lot of pride in being a full-service animal hospital, and we strive to be your one-stop shop for all your pet's health and wellness needs throughout all stages of life. Perhaps our most common services offered are preventative care services, including annual wellness exams, vaccinations, parasite prevention, and the like. We also perform a number of surgical procedures in our office, using only the latest and most state-of-the-art medicine and technology to ensure your pet receives the best care. From spay and neuter surgeries to more complex surgeries, you can rest assured that your pet is in good hands. We hope you and your pet are never in need of an emergency vet, but if your pet does experience a medical emergency during our office hours, we encourage you to bring him or her in as soon as possible. Our veterinary team has experience handling any number of emergency situations. Please, if possible, give our office a heads-up by calling on your way in so your pet can be seen as quickly as possible upon your arrival.
Dr Rebecca Gounaris is also an avian veterinarian and offers full veterinary care for pet poultry and parrots. She is very proud to be known as one of the few chicken veterinarians in the area.
Request an Appointment With Our Fallston Vet Today!
Whether you're ready to schedule an appointment with our Fallston veterinarian or want to find out more about our practice, feel free to give Pleasantville Animal Hospital of Fallston a call today at (410) 877-3838. We also welcome you to subscribe to our newsletter, which is created especially for pet owners. We are also very active on social media, so we encourage you to like us on Facebook, follow us on Instagram, and very much appreciate when clients share their experience by rating us on Google. We look forward to serving you and your pet!
We treat your pets like the valued family members they are, and welcome you to join the Pleasantville Animal Hospital of Fallston family!
(410) 877-3838
2128 FALLSTON RD
Fallston, MD 21047 1442
Emergency hospitals:
Mason Dixon Animal Emergency Hospital - 717-432-6030
Animal Emergency Hospital - 410-420-7297
Animal ER of York - 717-767-5355
Pet+ ER in Towson - 410-252-8387